How to choose a newborn photographer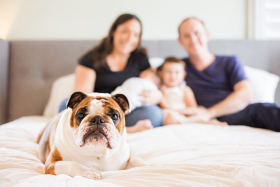 Congrats! You are about to give birth to your little precious one and want to document the first weeks of his life. Now, while you  might thinking mostly about props  and clothing for this event, here are more things to consider before you decide to commit to a newborn photographer (and there are plenty to choose from in San Diego).
Portfolio
This one is obvious – you see the photographer's work, you like it, you want something similar. While photographers offer a variety of options: airy, light and clear or moody style, posed or lifestyle or both, make sure you let your photographer know which portraits in particular you want to get.​
Props
If you are interested in portraits with props (read babies in baskets, babies with tiny knit toys, etc) – make sure the photographer is ok using them and that he/she provides them.
Note that some photographers concentrate strictly on the subjects themselves, what connects them, little details (like baby's nose, hair, toes, lips, etc), emotions and surroundings (for example, decor of the nursery).​ Hence they are not huge fans of props. If you like what they create, let them do what they are best at. 
Training
Note that to pose a newborn baby demands some training and at least basic knowledge of anatomy.​ Ask them who they learnt from, and how experienced they are in general when it comes to handling babies. 
Health​
Although, it does not seem like an obvious point, but nonetheless it's one of the most important. Don't be afraid to ask your photographer whether he/she keeps her shots up to date (measles, mumps, tetanus, flu) and what's their policy on rescheduling in case they feel like they (or one of their family members) are going down with something. Your baby's health is the most important factor to consider, so be vigilant!​
Feedback
The word of mouth is important, that's what will help you understand better what the photographer's like with clients.