Persimmon picking in Pauma Valley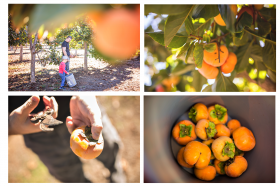 Fall is a great season for going to a farm and pick fruit: apples, persimmon, pomegranates... We've already got the apple thing covered (we went to Volcan Farm in Julian and definitely coming back next year!), this time we went persimmon picking. 
There are not so many persimmon U pick farms nearby, because producing persimmons is quite expensive (according to the farmers). It appears that this fruit need plenty of sunshine and water. Since there's no problem with the first one, the climate is not an issue, however, the second condition poses a problem.
Persimmon trees are native to California, but the local variety doesn't seem to be liked by the locals.
However, the farmers grow Chinese and Japanese variety: fuyu and hachiya. The first ones are crisp and crunchy, the second one is one a softer side, it's squishy and candy-like. We prefer fuyu - the crunchy ones - since this variety of persimmon is never astringent and remind of apples. 
We've chosen the U-pick farm where they grow organic persimmons located here 14797 CA-76, Pauma Valley, CA 92061. It's a pleasant drive and on your way there you'll also have an opportunity to visit the mission of Pala or the famous Pala fruit stand. It sells great avocados and fruit. 
The price for the persimmons is not as low as the Asian stores offer (around 0.7$ per pound), but these are organic - 1.5$ per pound (fuyu) and 2.00$ for hachiya.
The farm also provides you with a bucket, a pair of shears and a bag to take the persimmons with you. So they've got you covered here.