Scripps Pier engagement session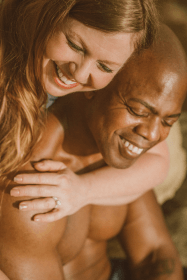 ​I don't do too many engagement sessions, since I mostly deal with families, but when I do I wish I did it more often.
This one was a fairytale, despite all the circumstances.
We started off rescheduling the whole thing due to health reasons: the fiance got sick. Needless to say I was super worried and the guys kept me updated on his heath condition. Once we were all clear we scheduled the session.
The fiancee styled her hair beautifully and picked the outfits with great care. I was monitoring the weather and lighting situation carefully. However, by the time we've gotten to the beach it was super sunny.
Damn it. It's May-grey and I was expecting a totally different look. We'll adapt for it, I thought.
Next came the high-tide. It was always the low-tide, but not on that day. The waves were crazy and the strip of sand was hardly there. What a bummer, I thought. But we kept our smiles glued to our faces and I-couldn't-care-less attitude.
We just let the situation go. Who cares, we didn't mind getting wet, as long as we have fun that equals great portraits.
These two were amazing, I fell in love with their love to each other from the very first minute! It's contagious, they laughed, they smiled, they were sincere and so happy! They loved the sun, the waves, the adventure we had on that day. 
That's what I love about beach engagement sessions in San Diego​: that freedom to enjoy your partner's company and that happiness. That connection. No kids to take care of, no pets to control, nothing. Just he and she, and their love for each other.