7 best Instagram spots in San Diego 2019
 ​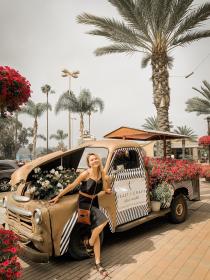 San Diego is rich with cute places worth capturing: from bright sandy beaches and breath-taking cliffs to the prettiest coffee places you can possibly find.
Here's a list of the most Insta worthy locations in San Diego:​
Flower Hill Promenade in Del Mar
Now here's the scoop: this mall did its best to attract instagrammers and just lovers of cute backgrounds: from an old and rusty truck filled with flowers to a tipee with cacti for the kids, colorful umbrellas hanging from the sky, works of art by local artists, amazing windows of the shops and Swell Coffee – a place that offers different types of goold ol' joe in a very cozy and somewhat airy setting.  
It makes a great place for meeting with a friend or working (they offer pretty decent Wi-Fi connection).
Personally I highly recommend trying their Cortado
Communal Coffee (North Park)
Now that's a place that attracts hundreds of bloggers and coffee lovers alike. Why? Well, it's easy: unique atmosphere (tons of flowers on the patio and cute interior design inside) and good coffee. For visitors with kids they offer a tiny playground are. Well, more of a corner with toys and stuff to do rather than a playground per ce. ​
The Ground Beans Bar (Pacific Beach)
Yet another cute coffee place: wallpapers tropical flowers, pink furry cushions, bird cages, pretty coffee bar stand and, of course, great coffee. Do try their famous acai bowl and rose latte! ​
One Paseo (Del Mar/Carmel Valley)
The new kid in town! This place offers a lot of photo ops: walls with words on them, a trendy new ice-cream place with very photogenic ice-cream in a cone, Parakeet Café, that offers good coffee and tasty pastry…The list is long, check this place out!​
The Pigment (multiple locations) 
Luscious green, pink and amazing photo ops. Personally, I spent a good half an hour there taking snaps of stuff – everything is sooooo cute!
Oceanside Harbor
I know, I know, it's not really San Diego, but it's worth the drive: there's a beautiful red and white lighthouse, beautiful little houses and boats, boats, boats! On your way there, don't forget to visit Oceanside Pier – another Insta worthy place here.​
Balboa Park Old Cactus Garden
You can tell it's a Insta worthy place by the quantity of Coachella-looking bloggers in the area. It offers plenty of space and so many photo ops!