10 best places for family portraits that are not on the beach in San Diego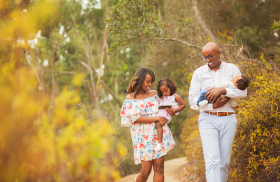 Whether you are thinking of getting your photos done professionally or just want to snap some of your own, you want the location to be pretty. Luckily, San Diego is filled with gorgeous places for taking family photos! Here's the top 10:
Balboa Park
It's kind of obvious – the jewel of San Diego is proud of its diversity.
It offers Spanish architecture, green canyons, a Japanese garden, fountains and isolated pockets.
Leo Carillo Historical Park
Situated in Carlsbad, this park will appeal to the fans of rustic style and nature.
White brick wall, stables, barn-looking structures bathing in beautiful flowers and trees.
And of course the peafowl roaming the park.
Old Poway Park
A hidden gem in the city of Poway! This tiny park is a popular place for wedding ceremonies and family pictures.
Why?
For starters, they have a functioning train and racetrack in that park and kids love trains.
Besides, there are several train cars too – they make perfect backgrounds, same as the wooden barn.
There's also a big white gazebo, a couple of wooden bridges across the little stream and tiny pretty white houses.
Presidio Park
This one has been neglected for some time and it's a pity. The green area has beautiful green lawns and an enormous tree right in the middle of it.
The museum building that looks like one of the Spanish missions in California provides some shade and looks great as a background for engagement or wedding photos.
Old Town San Diego
A great spot for family photos, especially if your friends or distant relatives are visiting the city. It has a very distinctive Spanish colonial style.
Yes, it gets to be crowded with tourists, but if you arrive there early in the morning you'll find yourself practically alone there.​
North Park
North Park creates an urban atmosphere and will be liked by the fans of lifestyle photography. Stop at a local café and enjoy a cup of coffee, take a funny selfie with the graffiti (there are tons of them!), stop at the vintage looking theatre, just have fun in the city! 
Point Loma Lighthouse
A great location for all types of photography: senior, engagement, wedding and family. Make sure you visit the tide pools as well, they transition beautifully in shots.
Looking for a BEACH location in San Diego instead? I've got you covered, here's where you can find the perfect one for you: click here.