Camping in Yucca Valley with kids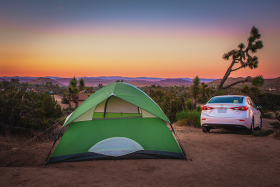 I'll start by saying that neither my husband nor me are campling people. Previously we had quite a negative experience of camping and it came out of the blue when our 5 year old asked us to camp out. 
Since we strongly believe that we, as parents, should expose kids to different experiences, my husband and I started looking for our options.
One of the most attractive ones was Yucca Valley camp ground. It offers water tanks, bathrooms and is located in the heart of Joshua Tree park.
Besides, it was really close to some town. Being an entirely urban kind of person, I don't feel comfortable in the middle of nowhere, I should admit.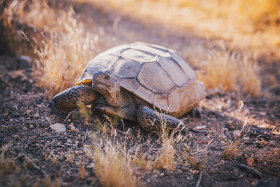 We bought a tent, a sleeping bag, skewers and all the ingredients for making s'mores. 
Camping fee is 20$. Each camp site has (hardly any) space for 2 cars and 2 tents. There's a table and a fire pit, however, most campers brought their gas-grills. 
The place looks magnificent! The valley is secluded among the hills and there are yuccas, joshua trees and different types of cacti and bushes around. 
You can encounter some local wildlife as well: desert tortoises, bighorn sheep, roadrunners, bats and coyotes to name a few.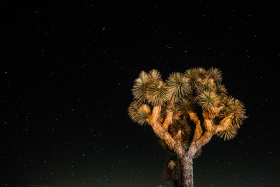 For kids aged from 4 to 16, there's an exciting book that you can get at the ranger station: it shows different kinds of animals, insects, plants that live there and offers to complete some tasks.
Our son was obsessed with that book and finding all the animals on the list. Once you finish all of them, you come back to to the ranger station, say a pledge and get a junior ranger badge. So worth it! Kids uplugged is always a bonus. 
Bring enough of bug spray and sunscreen. There are flies,mosquitos and, beware, tarantulas and scorpions. 
After dusk creeped in and everything turned blue, the first stars started to apprear on the sky and that was the most beautiful starlit sky I've ever seen in my life.