Maternity session tips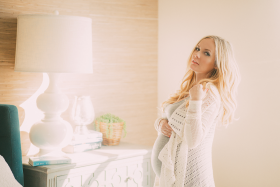 ​Moms-to-be are said to be the most beautiful women, and I cannot agree more on that one. Glowing skin, gorgeous hair and that twinkle in the eye. They don't really need much to look great in photos, however, one of the most common questions I get as a maternity photographer in San Diego area is: how do I get ready for a maternity session?
Well, it depends on the look you are going for and your personality in general.
Clothing tips
If you are going for a classic, elegant and romantic look – opt for a flowy dress. I like both: muted colors (dusty rose, beige, white, light blue, coral) and bold colors (red, yellow, emerald, bright blue). I don't mind having floral prints as well, however, I prefer them with leather boots and accessories and bohemian hair.
Do you prefer something more casual? Why not, I'm in, as long as it shows who you really are. You can opt for a pair of fitting jeans, tank top and a cardigan – preggos look great in these!
Feel free to ask me about this or that set of clothing in particular by messaging me – I'll gladly help you to choose the one that would look amazing in your maternity photos.
In fact, you can bring two! Why not, going for different look and feel – I love it!
Color scheme
Are you bringing your kids too? Just as long as you don't go with a matchy boring look. Aka everybody wears jeans and white tees. Go for something more interesting than this: match coral with white and turquoise or have fun with mustard yellow and burgundy. There's really no right or wrong here, go with something new, or stick to your preferred color scheme, whatever makes you feel good about yourself.
Choice of location
Choosing a location for maternity portraits in San Diego also poses a lot of questions and quite a few moments of thinking. I always recommend going with the place that makes your heart sing, where you'd feel the most comfortable and confidence. If in doubt, ask me. I love beach maternity, I'm also a huge fan or vast preserves. Or try a cozy snuggly session at home – on your own turf, so to speak.
Something extra
Thinking about bringing your dog too? Go for it, we'll just have to keep it in mind when picking the location.
If you have older kids, make sure you bring some snacks for them and a toy or two to keep them busy while I'm working on portraits of you and your second half. Once there are kids present I make sure we take plenty of family portraits, some portraits of just kids and, of course, kids and your baby bump. You basically get two in one: maternity and family pictures done in just one session!