Balboa park and its photo opportunities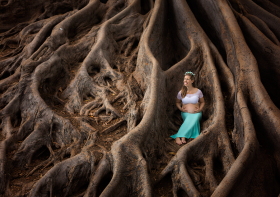 Balboa park is a green marvel inside of the city. It's not only a park with its green alleys, mighty fig trees and pine trees. It's also diversity and staunning architecture.
A lot of photographers are allured to this location and no wonder: nothing can beat the versatility of looks you can achieve here: from diva or boho girl to a nymph.
I love the Speckled Organ Pavillion for its stunning beige columns, forming beautiful arches and shade no matter when you come there (a hidden gem for unfortunate ones who had scheduled a noon photo shoot).
I find the houses of different countries (Germany, Spain, Sweden, Finland and even Ukraine) very attractive, since they have colourful doors and walls and bushes in bloom around them.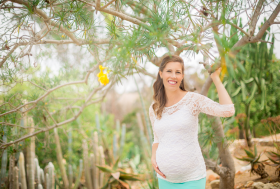 Right in front of these houses goes the Palm Tree Canyon, with the bridge and a lot of green plants around.  If you happen to be there during (too) sunny hours, this would be the place to spend them in.
The main focal point of the whole park for me would be not the Tower of Man, but the huge fig tree with absolutely stunning intervened roots.
The trail leading to its roots is not for the faint-hearted, but it's so worth it! Unless it's a sunny day with the sun facing the tree, then you'll get speckled unattractive image.
I had a mom-to-be sitting among the roots and boy, it turned out a great portrait!
The Japanese Garden is a great place for shooting couples, especially during the sakura blooming.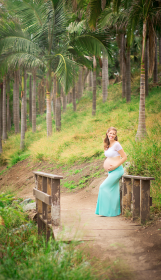 Opt for a week day though, since during weekends it gets to be super crowded.
There are not only gorgeous trees and traditional ponds, but also beautiful gate doors that can be successfully used as a background too.
Note that the garden opens at 10 am, so if you plan on shooting in the morning – pray for an overcast day…
Of course, there are fountains and gardens and beautiful buildings in Spanish style.
Before you venture on a photo spree in Balboa park, make sure you wear comfortable shoes and sunblock.