Erin's maternity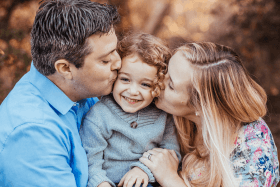 Erin turned to me to get her maternity + family pictures done and was looking for a classic "fall look". Well, winter in San Diego during rainfalls is nothing like fall at all, it looks more like spring. However, it didn't stop us. I've come up with the location that looks the most appropriate and the rest was a matter of editing (God bless editing software!).​
We wanted the session to be about the Family, not just the Pregnancy. She was envisioning a set of new beautiful pictures on her walls in the living room and was really excited.
I talked to Erin beforehand, gave her some recommendations on how to get ready and make sure the family session is a success (you can read my tips of a family photo session here). 
The only concern she had was that her son might not cooperate, but he did wonderful job, sweet kiddo with the cutest little curls I've ever seen! And, I should admit, he was super excited to meet his little brother!