A family of 5 in Mission Trails Park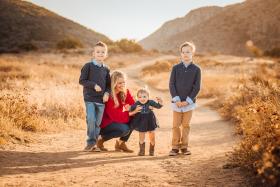 I've known this family for years, we've done all sorts of locations for their family pictures and this time we opted for Mission Trails - a wonderful place, especially during fall months. 
It's an extensive park with mountains on the background, neat trails, and breathtaking views! And the light, oh don't let me start on the light!
Mission Trails a perfect place for those who love plenty of space, almost no people around (except for some occasional hikers or bikers) and who don't care much about greenery. This location also allows dogs on leashes. Just remember to be respectful and stay on trails.