A family of three in Mission Trails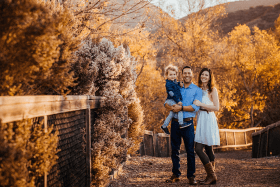 ​San Diego doen't really have clear seasons, however, it's easy to catch 'fall' in some places.
One of these is Mission Trails Regional Park: it has dry grass and eathy tones are guaranteed due to dry vegetation on its hills. I love this spot for varried backgrounds and the feeling of vast, almost wild nature.
It pairs really well with cowboy boots and denim.
It's dusty, so be ready for it! I can't imagine my "right before Christmas" sessions without this spot at all now - it has a charming personality and it's hard not to fall in love with it. And it's got nobody around you on a week day, giving everybody a lot of freedom. The ultimate destination for a family photographer in San Diego. 
I was really excited when my clients told me they want this place in particular and I was twice as excited when I saw their outfits - just perfect for the spot!