A family of three in Old Poway Park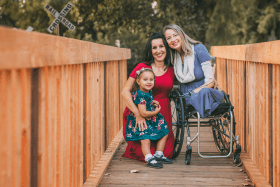 ​Old Poway Park is always a great idea, especially for fall pictures. 
I love how bright the red tones look there, they compliment the whites and also wooden and earthy tones that are so characteristic to this location, and I was so happy to see that one of the moms actually wore this color to the session.
Although, by the time we arrived there the sun started hiding behind a huge and pretty dense coud, I'm fully satisfied with this no too contrasty feel that the portraits have. 
It took some time for Calliope, this cute girl with curly hair, to warm up to me (since she hasn't seen me for more than a year and, of course, forgot me altogether), however, once she opened up with captured so many smiles and positive emotions, it's worth the extra work!