The A family in Torrey Pines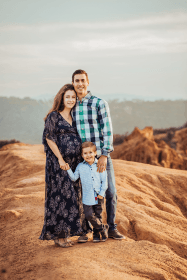 ​San Diego is an amazing place to work as a photographer: it boasts of sandy beaches, hills, preserves, and canyons. 
This session took place at the latter. The location is not too popular, so it can be considered as a hidden gem! There are fluffy pines, unusual bushes and, of course, the best part of it: the canyon itself. It's so bright and vivid, it takes your breath away!
i've known this family for some time already: I've seen Sam grow and turn from a funny toddler into a smart and gentle boy, and now I document the moment of revealing great news: there's going to be another kid in the family! The parents don't know (prefered not to, in fact) the gender, so it's a big secret. I love it this way and looking forward to know if that's going to be a girl or a boy.
In the meantime, they are enjoying the portraits, capturing fun moments of their family of three (soon to be four).