Top beaches for family photos in San Diego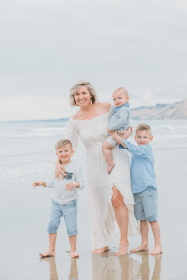 ​Both local and tourists agree beaches would be the first thing that comes in mind when thinking about San Diego, so it's no wonder that so many people are choosing the beach as a location for their family photo session here.
San Diego boasts of having the coolest views, and here are the top 7 beaches that make the best backdrop for your family portraits.
Scripps Pier (La Jolla)
Beautiful views: rock formations and cliffs, light colored sand, and, of course, the highlight of the location is the Pier itself. To see more sessions taken at this location please click here. 
Parking: on weekends there's paid parking + free off street parking (somewhat hard to find). 
Restrooms available. 
Windandsea (La Jolla)
The hidden gem in the area! It features stunning cliffs and rock formations, a gazeebo and pretty houses in the background.
Parking: free off street only, busy.
Restrooms unavailable. 
Coronado Beach (Coronado)
This location is unique: there are sand dunes! And the sand is very fine and almost white, which is a big deal when we talk about gorgeous family photos. Besides, there are succulents, and, the one and only, Hotel Del Coronado. Besides, this location is one of the few that is so extensively big – you don't have to account for tide charts! Wanna see more pictures of this amazing location? Click here to see more blog entries with Coronado sessions.
Parking: free off street only, not too busy.
Restrooms: available
Oceanside Pier
It's a popular spot for family fun, and perfect for taking family photos as well: there's that amazing wooden pier (and yes, it's accessible!), rocks and palm trees along the beach.
Parking: paid parking available, free off street (distant and busy)
Restrooms: available
Solana beach Tide Park (Solana Beach)
This is a hidden gem in Solana Beach, not as popular as Fletcher's Cove, this place offers outstanding views of the cliffs, and beautiful sand.
Parking: free off street
Restrooms: unavailable
Del Mar Powerhouse Beach (Del Mar) 
Yet another popular spot for hanging out with family and friends. Depending on the season this place features spectacular bloom! And of course, the sand, the cliffs, and the infamous light blue lifeguard stations. 
Parking: paid and free off street (distant and busy)
Restrooms: available
Not sure what to wear on a beach session? Check out my guide here