A beach session for a family of three (and expecting)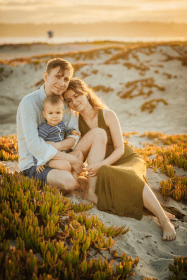 I've known this family for a little bit over a year and we started as friends, not client-photographer basis.
However, this time we've changed a status of relationships and magic happened! 
The family visited from Los Angeles, they come to San Diego to run away from busy life, and enjoy our beautiful beaches we boast of. 
To pick the appropriate outfits for the family photos, the mom used my guide on how to get dressed for a beach session.
I also recommended taking a look at the lookbook for dads to style her second half appropriately.
Hence - the choice of location: one of the least crowded beaches in San Diego County - Coronado Beach. 
They love it for the possibility of intimacy, I love it for the white sand, succulents, and sand dunes!
And, later on, gorgeous mirror reflections on the sand as the sun is going down against a gorgeous background. 
It was also important for the beach not to have boulders, since we've got a wild runner! 
Do you wish to check out more sessions on this particular spot? Enjoy this family of four on Coronado Beach.