Fall session in San Diego: tips on how to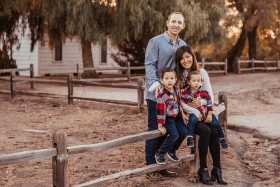 ​In San Diego there are no clear seasons, however, fall colors could be found starting in August here and there. Plus, I know a trick or two in Photoshop how to make not-so-fall pictures look trully 'fally'.
First, scout for a location that has dry grass and yellowish bushes and trees. Hint: you want to look inland, where summers are drier than in coastal areas. I'd take a look in Poway, Ramona, Julian, Mission Trails, or Rancho Penasquitos. These boast of trees that actually go yellow and brown during fall months.
Second: choose your look and accessories carefully. There are certain items that suggest fall: like riding leather boots and leather jackets, scarves and colors like mustard, beige, bordeaux (wine color). You can even throw on a hat, why not?
Lastly, don't forget to let your photographer know about the look and feel you are going for. He/she'll know what to do!