Harper turns ONE!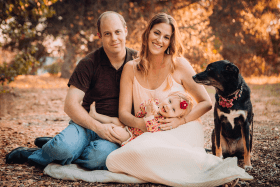 ​I met Harper exactly one year ago: she was cute, with pink skin and piercing blue eyes. A perfect newborn. Frankly speaking, she wasn't the easiest newborn to handle: she wanted to be held at all times and felt extremely uncomfortable elsewhere but her mom's arms. But we managed to capture her first days of life beautifully despite of her being uncooperative.
Tricks of the trade, as we say.
A year flew by and Harper turned into a robust and still blue-eyed girl. She rocks floral patterns and wears a pretty smile.
We went with Old Poway Park for her bday and family session, and boy we hit a jackpot! Although it was predictably crowded (everybody loves Old Train Park during fall months, it looks gorgeous!), people were not in our way at all. We included a dog as well, since she is an indespensable member of the family (and I'm always in when it comes to pets in family pics!).