Sunny maternity session at PQ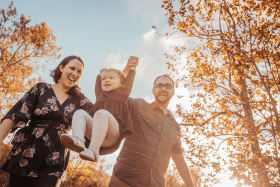 ​One of my first questions that I ask my clients as a professional photographer in San Diego is what look and location do you envision?
If a client is looking for moody, romantic look I usually offer a beach session early in the morning (to get that distinctive washed out foggy look), if it's sunny and energetic that they are looking for going a bit farther into the continent before the sunset would be a great bet.
One of the most popular locations for rustic and "fall" looking photos is Rancho Penasquitos Canyon. 
This was exactly the location we've chosen for this magnificent maternity/family session. Audrey is known as a shy little lady, however, despite her mom's concerns and fears that she won't be cooperating at all, we all had a great time in the grass. Especially Audrey - see it to yourself! 
While capturing maternity, I make sure I pay enough attention to the older brothers and sisters, and their special connection with each of the parents. It's important to show the kids that they are loved, valued and have their own place in photos as well.